Benchmarks in Tokyo, Seoul and Sydney fell amid thin trading volumes, while they rose in Hong Kong and Shanghai. U.S. stocks rallied on Friday from session lows -- though they still ended the day down -- after the White House announced that Steve Bannon would be leaving his job as chief strategist, capping a tumultuous week for the Trump administration. Investors remain on edge after a terror attack in Barcelona and amid simmering tensions on the Korean peninsula. Oil held onto gains and the yen fell, Bloomberg reported.
The removal of Bannon, the former chairman of Breitbart News and a controversial key Trump adviser, may quell some of the fallout from Trump's remarks on violence in Charlottesville, Virginia, which continue to raise questions about his ability to focus on plans to boost the economy.
Investors pulled $1.3 billion from equity funds in the week ending Aug. 16 as tensions over the Korean peninsula escalated, according to EPFR Global data. Outflows from U.S. stock funds were triple that, suggesting doubts about Trump's stimulus plans are an additional worry. Heightened terror fears added to the malaise after at least 13 people died when a van plowed into pedestrians in Barcelona Thursday.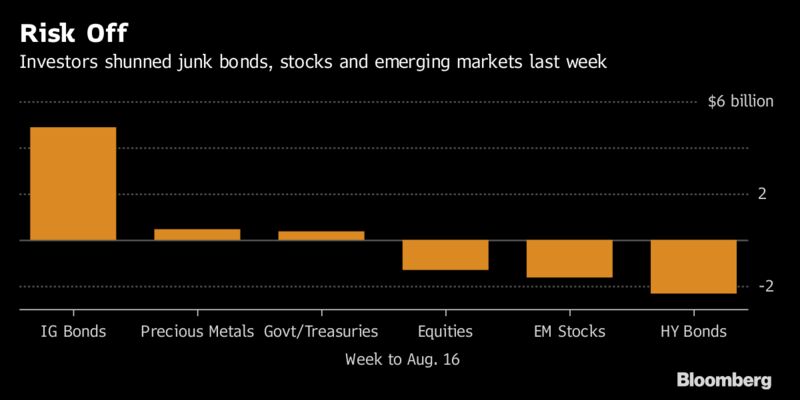 With economic data thin this week, markets are focusing on any significant policy statements coming out of Jackson Hole, Wyoming. Federal Reserve Chair Janet Yellen and European Central Bank President Mario Draghi are among central bankers attending the annual gathering later this week. The theme this year is "Foster a Dynamic Global Economy," at a time when persistently weak inflation in the U.S. and elsewhere has clouded prospects for sustainable, stronger growth worldwide.
Among the key events this week:
Before heading to Jackson Hole, ECB's Draghi will give a speech on Germany on Wednesday. Minutes from the Governing Council's July meeting released last week showed that officials are still uncertain how to signal changes in their policy settings.
Thailand's economy grew faster than expected in the second quarter, with GDP expanding 3.7 percent from a year earlier. Other economic releases this week include sales of new U.S. homes in July, Taiwan July industrial production, Malaysia July CPI, U.K. second-quarter GDP, New Zealand July trade data and Japan July CPI.
Indonesia is among central banks to hold monetary-policy meetings.
U.S.-South Korea military drills are scheduled to begin.
Philippines markets are closed for a holiday on Monday.
Here are the main moves in markets:
Stocks
Japan's Topix index fell 0.1 percent and volume was about 11 percent below the 30-day intraday average. South Korea's Kospi index lost 0.1 percent. Australia's S&P/ASX 200 Index dropped 0.7 percent, with BlueScope Steel Ltd. tumbling as much as 23 percent after the company reported disappointing earnings.
Hong Kong's Hang Seng Index added 0.5 percent and the Shanghai Composite Index was up 0.3 percent.
Futures on the S&P 500 were down 0.1 percent as of 2:29 p.m. in Tokyo. The underlying gauge ended down 0.2 percent Friday.
The MSCI Asia Pacific Index slid 0.2 percent Monday.
Currencies
The yen fell 0.1 percent to 109.24 per dollar.
The Bloomberg Dollar Spot Index was up less than 0.1 percent, bouncing from a 0.3 percent drop on Friday.
The euro was trading at $1.1753 after advancing 0.4 percent.
The Australian dollar was little changed at 79.24 U.S. cents after gaining 0.6 percent on Friday.
Bonds
The yield on 10-year Treasuries gained less than one basis point to 2.20 percent.
The Australian yield on notes of similar maturity rose one basis point to 2.63 percent.
Commodities
West Texas Intermediate crude was little changed at $48.50 a barrel, holding a 3 percent rally on Friday.
Gold gained 0.2 percent to $1,286.13 an ounce.