The government in Seoul still forecasts gross domestic product to expand by a healthy 3 percent this year, yet damage to tourism is clear, a surge in consumer confidence may be waning and policy makers have warned that geopolitical tension isn't going away anytime soon, Bloomberg reported.
South Korean Finance Minister Kim Dong-yeon said Monday that because a "fundamental solution" to the North Korea problem is difficult, the effect on financial markets won't be short term and could have a negative impact on the economy.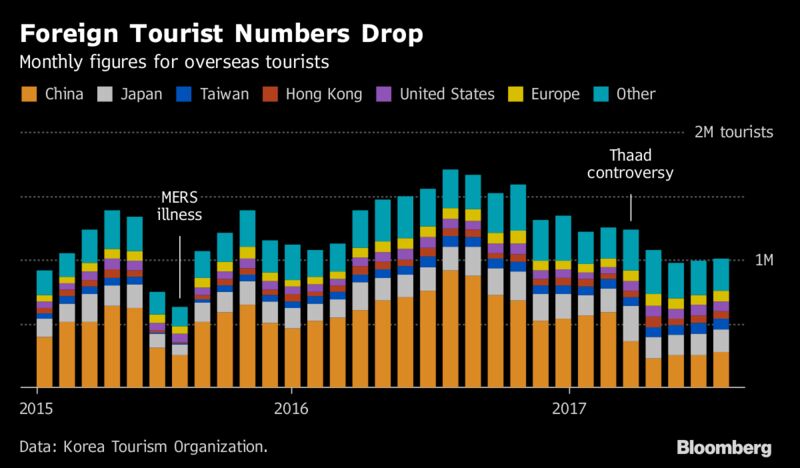 Heightened geopolitical tension is partly responsible for the 40 percent decline in foreign tourists coming to South Korea in July, the most recent month for which figures are available, according to the Korea Tourism Organization.
The biggest slump is in visitors from China, reflecting a ban on package tours by the government in Beijing over South Korea's decision to deploy the U.S.'s Thaad missile defense shield. The loss in spending from fewer Chinese between March and July is about $4.7 billion, according to estimates by Bloomberg.
The country's deficit in the services balance widened to $3.29 billion in July, driven by weakness in the travel sector, the Bank of Korea said Tuesday. On top of the drop in Chinese visitors, the number of European and Japanese tourists fell as North Korea fired missiles, said Roh Chung-seak, a director at the central bank.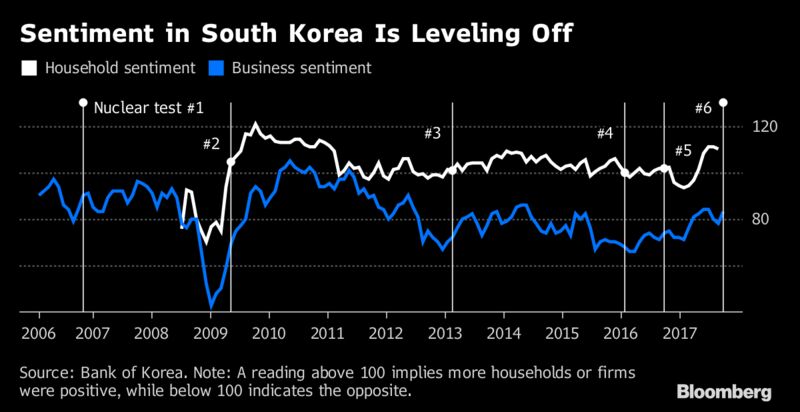 After rallying since President Moon Jae-in took office in May, the shine came off the consumer sentiment index in August, though the gauge remains in positive territory. Business sentiment has remained well below the 100 mark for many years.
As North Korea's provocations spill over into financial markets via increased volatility, the broader economy can get hurt by any pullback in consumer spending and business investment activities, said Chang Jae-chul, an economist at KB Investment & Securities Co. in Seoul.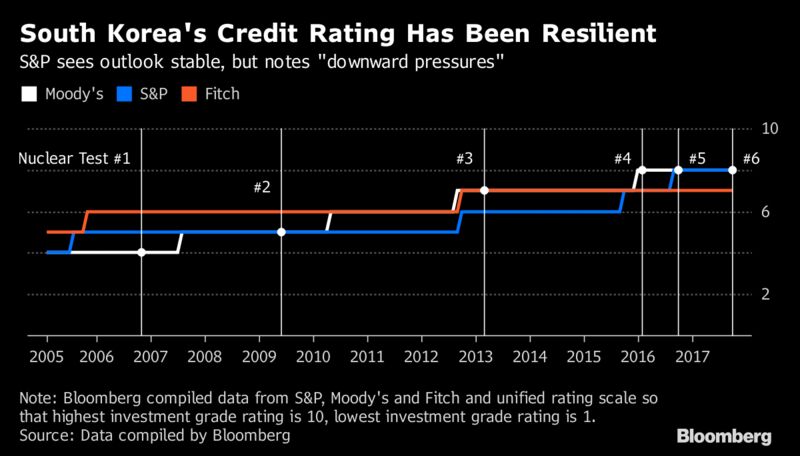 South Korea's credit rating has steadily improved since the Asian financial crisis in the late 1990s, and now stands higher than safe-haven Japan from all three major rating agencies, despite the threat from North Korea.
S&P Global Ratings indicated on Monday that it isn't likely to make any changes for now and that the outlook remains stable. But in an email to Bloomberg, Kim Eng Tan, senior director for sovereign ratings, also said: "we view downward pressures on sovereign credit metrics to be rising".
That's of concern to the government, which doesn't want to see any increase in funding costs for South Korea. Finance Minister Kim said on Monday that the government will be in close communication with the credit rating agencies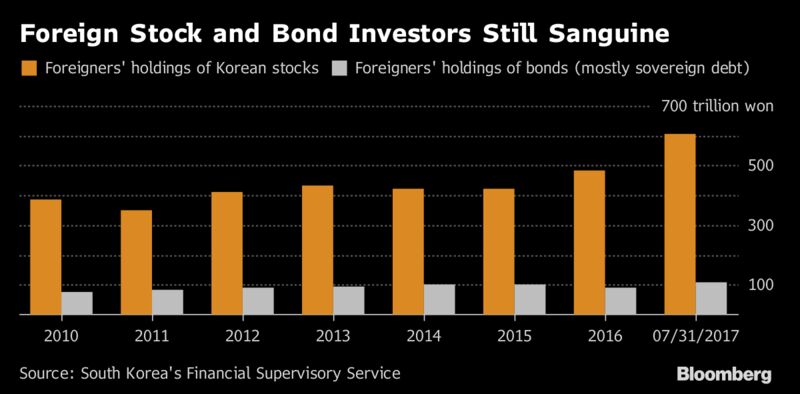 Foreign buying of South Korean securities has grown steadily this year, despite missile and nuclear tests in the North. Overseas investors hold about 33 percent of the nation's equities and 13 percent of sovereign bonds.
With a chorus of investors predicting a muted market reaction after North Korea's nuclear test on Sunday, there are no signs of a run to the exit.
What can be expected for now is that the government in Seoul will further boost its foreign-exchange reserves to provide a measure of "self insurance" to reduce market volatility and protect against potential shocks, according to Kwon Young-sun, senior economist at Nomura International in Hong Kong.